VTG 2005 Schwinn Stingray Spoiler OCC Adult Chopper BicycleCustom DesignRARE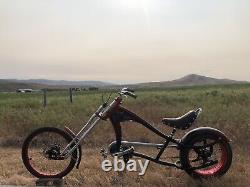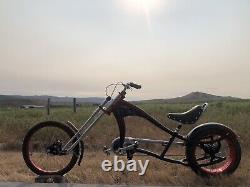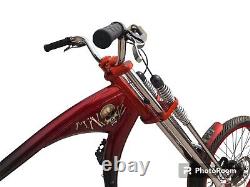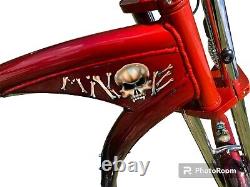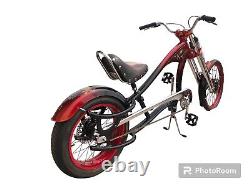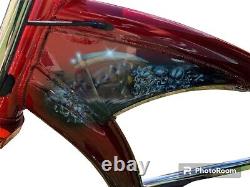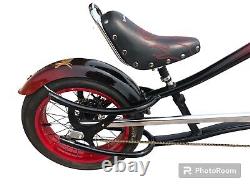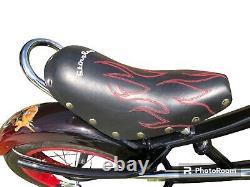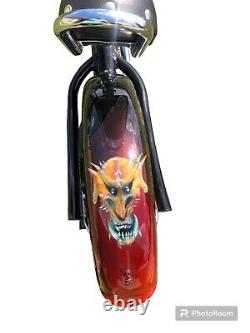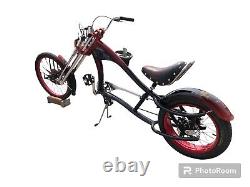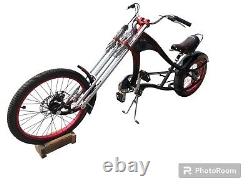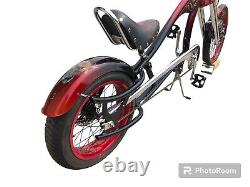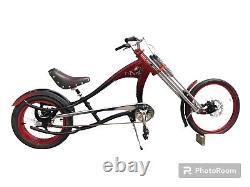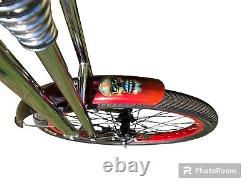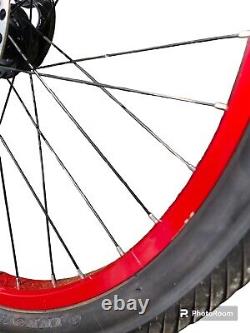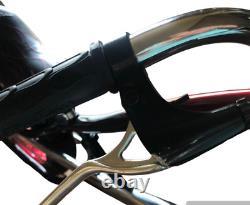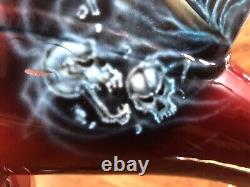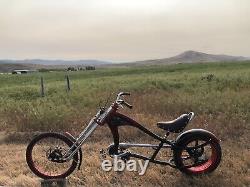 Now you have a second chance! LIKE NEWThe original owner of this bike bought this soley as a showpiece. Other than a brief ride around the block in 2005, it has never been ridden. Actual mileage ridden is less than a mile all together. It is in immaculate near-mint condition and is certainly a fun collector's showpiece.
There are some minor imperfections that will be noted on the photos. There are 2 tiny spots missing paint on the rim. There is some scuffing on one of the brake handles, and there is a small area on one of the airbrushed pictures that has a chip of paint missing. Please see all pictures for complete condition. Style: New generation chopper / cruiser: 100% muscle bike -- The Schwinn Sting-Ray is all about the ride.
Built with customized parts -- like the Big Boa Tire and signature V-back Handlebars -- The Schwinn Sting-Rays are endorsed by Orange County Choppers. Straddle the saddle and hit the pavement...
The rebirth of cool in a bike. Only 2000 of these bikes were made in 2005. They are rare to find, and highly collectible. The Schwinn Stingray Spoiler has always been the coolest ride on the road. It has unparalled specs and is unbelievably unique.
But, this one is even MORE RARE and SPECIAL because it has had customized upgrades. Bike originally came in black with a red pinstripe but this bike has been painted in a black ombre to orange to red design. Custom airbrush artwork has been done by a local independent artist in 2006.
Since that time, it has been stored and admired indoors. The original seat stem has been upgraded. The bike measures 7`5" in length and will fit adult riders from 5'5" to 6'8 tall. Has the original black leather saddle seat: Riveted flat-back flame design with hoop bar. Full chrome 4-legged Freak linkage suspension with pre-load adjust and dual disc mounts.
Chainset: 3 piece crank with mag chain wheel and polished alloy crank arms. Front & rear steel fenders, full length steel chainguard and dual wishbone kickstand. Handlebars: Stingray Back drag mid-rise.
Manual DISC brakes front and rear. Front: Tektro IO mechanical 180mm disc. Brake levers: Forged alloy, adjustable. Hub front: Alloy dual disc hub. Hub rear: Alloy disc hub.
Black spokes and red rim. FULL custom springer triple tree front end with custom 48 hole, 24" x 2" red rim & Big Boa 20" x 4.25" wide rear drag tire.
Local Pick-Up in Richland, Washington, please. Note: Bike typically will have to be partially disassembled while packed professionally by a local bike shop.