Vintage Prewar Schwinn DX Bike FRAME Fat Tire Klunker Cruiser Bicycle 26 Wheels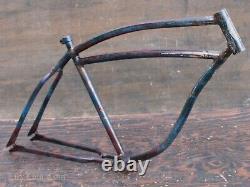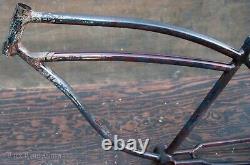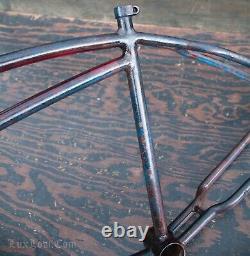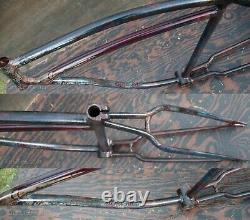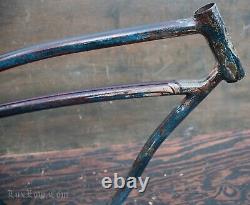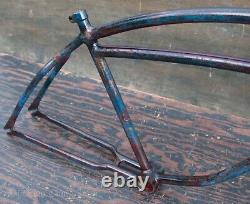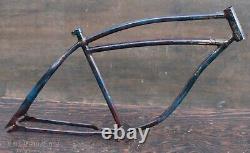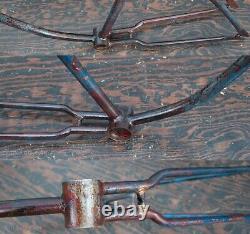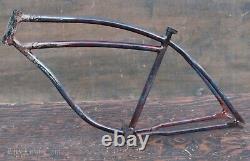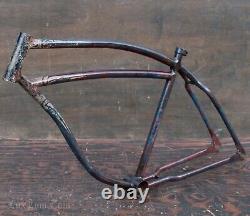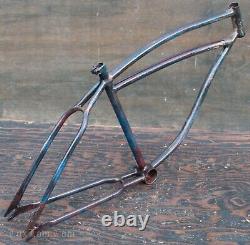 Vintage Prewar 1940 Schwinn DX / Balloon / Fat Tire / Klunker Cruiser Bike Frame (Nice Patina). Vintage Prewar Schwinn DX Balloon Tire Cruiser Bike Frame. The DX Frame looks to be from 1940, frame has Prewar Dropouts, curved bottom tube, has shorter prewar headtube so most likely 1940. Serial is on the Bottom Bracket and F149xx. It is Used, Steel, has a Cool Patina, originally maroon but has over spray paint, has dents from a kickstand, fender bridges are chewed, shows wear, has paint & decal loss, rust, may have dents and Scratches.
Adult size Frame, aka 18" Schwinn frame and is for 26"x 2.125 Balloon Tires Dropcenter Wheels & S-2 wheels, wheels Not Included. This Part is a nice addition to your Old School Klunker Mountain Bike, Vintage Road Bike, Antique Bike Restoration, Vintage Ratty Mc Rat Rod, or Custom Schwinn Chopper Bicycle Project. If you have a problem with your order, We strongly suggest emailing us first for our best solution to the problem. We Hope You Enjoy Bikes as Much as We Do, Check Out the new look of Lux Low our Ever Growing Bicycle Portfolio of Antique and Vintage Bicycles from 1890 to 1990. We Specialize in Full Antique Bicycle Restoration, Custom Chopper Bicycles, Antique Wood Wheel Safety Bicycles, Vintage Cruiser Patina Restores, and Vintage Road & Racing Bikes.
We Excel in Patina Wood Wheel Restores: Miami, Racycle, Mead, Ranger, Dayton, Iver Johnson, Spalding, Pope, Columbia, Sterling, and Repainting Schwinn Krate, Stingray and Ballooner Bikes, Prewar Elgin, Colson, Shelby, Dayton Huffman, Cleveland Welding, Hawthorne, Roadmaster, and Dope Azz Custom Bikes.