Vintage Delta Torpedo Fender LIGHT LED Prewar Schwinn Tank Bike Shelby Bicycle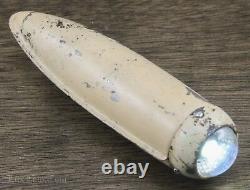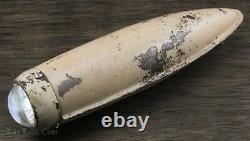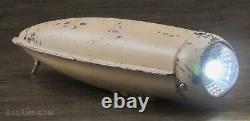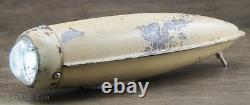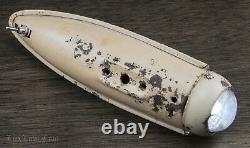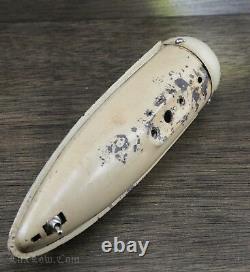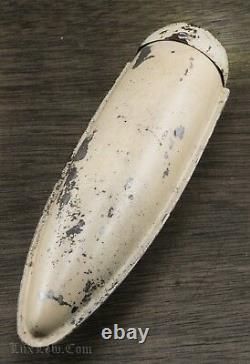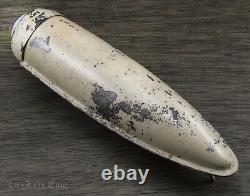 Vintage Cream Prewar Delta Patina LED Torpedo Fender Head Light. This Prewar Front Load Light was mostly used on Prewar Schwinn Ballooner Tank Bikes and Other Brand Prewar Tank Bikes but you may use it on any bike you need a Fender Light for.
The light is recycled, retrofitted, and patina restored, to give you a cool working old light that matches the old patina of vintage bicycles. The Old Light is Patina Preserved, the original battery tray is removed, a high output white LED is installed , a new switch, and new wires are installed with a 12 volt battery tray (that's 8x AA batteries). The Light may have a lot of batteries but with the LEDs efficiency changing batteries is a rare occurrence. What you see from the outside: Front loading Torpedo, a new switch, new reflector, reproduction lens, a few new screws, and patina. Light has rust holes on the bottom. The Battery tray is wrapped in rubber to protect and prevent any movement or sound while riding.
The Light is a cool and efficient option to put on your Vintage Schwinn Bicycle, Colson, CWC Roadmaster, Hawthorne, Elgin, Dayton, Huffman, Shelby, Rollfast, Pope Columbia, Iver Johnson, or Other Brand Vintage and Antique Bicycles. Our Patina Lights are Good Working lights to blend with Original Vintage bikes.
We do Fully Restore Antique Lights, our Patina Lights either have Great Original Patina that is a shame destroy or the innards or outside are too rough for full restoration, Hence the patina restoration choice. This Part is a Nice Addition to your Antique Schwinn Restoration, Vintage Ratty Mc Rat Rod Monster Ride, Racing Fixie Fascination, or Custom Schwinn Chopper Bicycle Project. Rate Varies in relation to how the item ships.
If you have a problem with your order, We strongly suggest emailing us first for our best solution to the problem. We Hope You Enjoy Bikes as Much as We Do, Check Out the new look of Lux Low our Ever Growing Bicycle Portfolio of Antique and Vintage Bicycles from 1890 to 1990. We Specialize in Full Antique Bicycle Restoration, Custom Chopper Bicycles, Antique Wood Wheel Safety Bicycles, Vintage Cruiser Patina Restores, and Vintage Road & Racing Bikes. We Excel in Patina Wood Wheel Restores: Miami, Racycle, Mead, Ranger, Dayton, Iver Johnson, Spalding, Pope, Columbia, Sterling, and Repainting Schwinn Krates, Stingrays and Ballooner Bikes, Prewar Elgins, Colsons, Shelbys, Dayton Huffmans, Cleveland Welding, Hawthorne, Roadmasters, and Dope Azz Custom Bikes.
The item "Vintage Delta Torpedo Fender LIGHT LED Prewar Schwinn Tank Bike Shelby Bicycle" is in sale since Thursday, January 17, 2019. This item is in the category "Collectibles\Transportation\Bicycles\Bicycle Accessories".
The seller is "luxlowbikes" and is located in Golden, Colorado. This item can be shipped worldwide.
Delta: Torpedo
vintage: bike
antique: bicycle
schwinn: cruiser
torpedo: light
fender: headlight