Vintage 1962 Schwinn Superior Sport Road Bike FRAME FORK 27 Wheels Tour Bicycle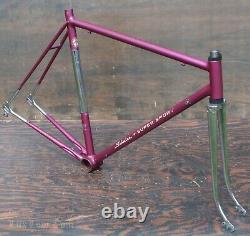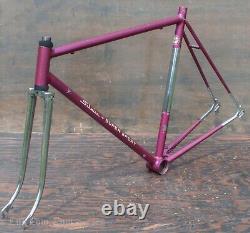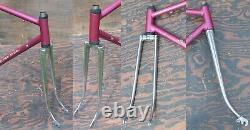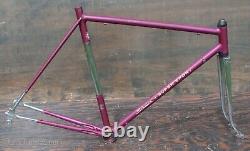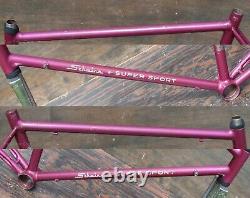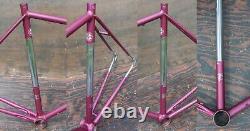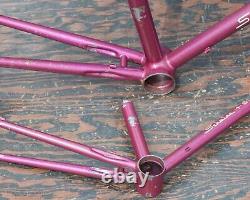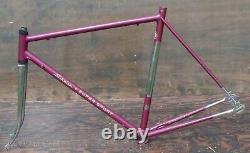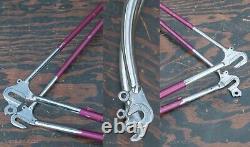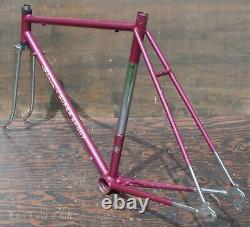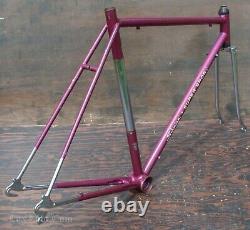 Vintage 1962 Violet Schwinn Superior Sport Road Bike (Super Sport). Vintage Used Schwinn Superior (Sport) Road bike Frame & Fork from 1962. Although this Frame set says Super Sport after research it is an earlier 1962 Superior Sport with original paint that someone applied Super Sport decals. Oddly few years later the Superior Sport becomes a Super Sport.
The Superior / Super Sport was one of Schwinn's better Road bikes and was Fillet Brazed in the Paramount Factory / Division. I believe the Bike Size: is a 22", that is 22" Crank Center to Top or the seat mast (Clamp Top). In metric the Bike is 53cm center to center seat tube and 57cm center to center top tube.
The Bike is used, shows wear, and as found. The Paint is OK, slightly aged violet color used in the 1960s, the violet seems a tad different than 1966 Schwinn Violet, it does have some scratches, nicks & possible tiny dents & rust. The Seat Tube decal looks original, and as stated the super sport decals were added, the super sport decals are on top and you should be able to be removed if you want. Bike has Chromed stays & Huret Dropouts and chrome seat tube. Cool Old Vintage Schwinn Light Weight Frame Set. This Part is a nice addition to your Old School Klunker, Fixie Fascination, Antique Bike Restoration, Vintage Ratty Mc Rat Rod, or Custom Schwinn Chopper Bicycle Project. If you have a problem with your order, We strongly suggest emailing us first for our best solution to the problem. We Hope You Enjoy Bikes as Much as We Do, Check Out the new look of Lux Low our Ever Growing Bicycle Portfolio of Antique and Vintage Bicycles from 1890 to 1990. We Specialize in Full Antique Bicycle Restoration, Custom Chopper Bicycles, Antique Wood Wheel Safety Bicycles, Vintage Cruiser Patina Restores, and Vintage Road & Racing Bikes. We Excel in Patina Wood Wheel Restores: Miami, Racycle, Mead, Ranger, Dayton, Iver Johnson, Spalding, Pope, Columbia, Sterling, and Repainting Schwinn Krates, Stingrays and Ballooner Bikes, Prewar Elgins, Colsons, Shelbys, Dayton Huffmans, Cleveland Welding, Hawthorne, Roadmasters, and Dope Azz Custom Bikes.