1972 Schwinn Pea Picker Krate Bike Vintage Stingray Banana Seat Stik S2 Muscle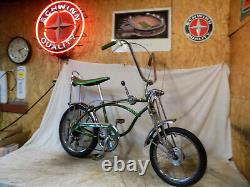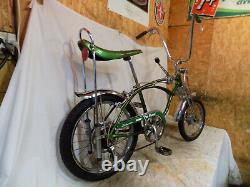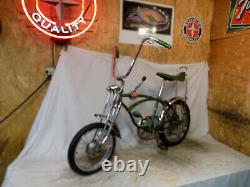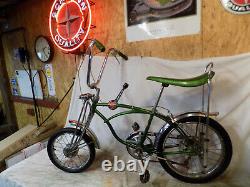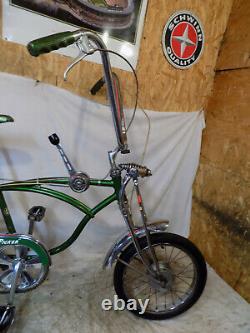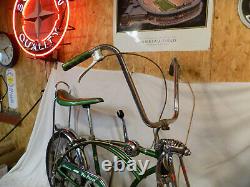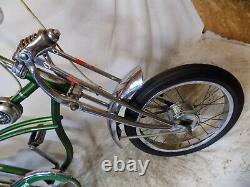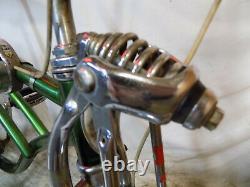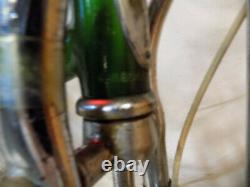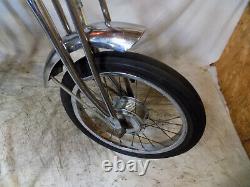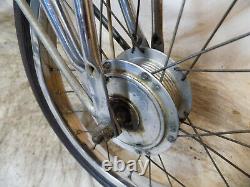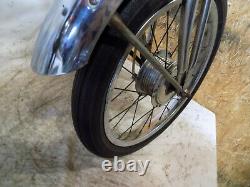 1972 SCHWINN PEA PICKER KRATE BIKE VINTAGE STINGRAY BANANA SEAT STIK S2 MUSCLE! Here is a rare original October 1972 Schwinn Stingray "PEA PICKER" 20 Krate MUSCLE BIKE! (KH Serial Number) This bike is from the era when most everything was cool! The HEMICUDA, Mach 1 Mustang, and Camaro Z-28 come to mind!
This is agruably one of the very COOLEST Schwinn bikes of all time! EVERY kid wanted one back in the day... Few were lucky enough to own one. You did not see them often back in the day, and almost NEVER see them in any condition these days! They were designed after the drag racing muscle cars of the time! They hit the nail on the head with this one! The bike is LOADED with cool options only found on the top of the line "Krate" series at the time. The bike has the cool correct "cantalever" original paint 5-speed Schwinn frame, cool wide apehanger handlebars, matching Schwinn hand grips, chrome Schwinn SPRINGER front forks with S bolts, cool Schwinn BOW pedals, chrome front and rear fenders, 5-speed "Mag" sprocket, cool rear SHOCKS sissy bar and so much more! It has the cool Schwinn S7 front rim with the correct ATOM drum brake. The rear wheel is a 5-speed double knurled side stamped S-2 Schwinn rear wheel. Both front and rear tires hold air. The front tire is a Schwinn. The rear is a raised white letter Schwinn Stingray tire. (The front is a slightly newer non Schwinn replacement tire) I dont know where you would find another like it! Though it is not flawless, I think the paint is ok for a 45+ year old BOYS bicycle! LOVE the fact that it is still original paint!
The chrome is shiney but not perfect show quality. The chainguard is repainted and looks somewhat fabricated. Its included but pretend it isnt there lol! The bike has the cool 5-speed STICK SHIFTER and with operable hand controlled brakes. (this one even has the overload tube) The brakes work front and rear.
The bike shifts but does not go through all the gears. This one has been in very long term storage. Seat is cool but has age and rips. The front mount is attached but a little wobbly/loose. (use it like it is, recover it, or replace it) This one has the wider earlier looking handlebars and bow pedals.
I got it like you see it and did NOT take it apart to date parts. Being a 1972, I can only assume this one was born from the factory with a rear Disc Brake? Again, I got it like you see it! SO, This bike was in the personal collection of Rollie, the owner of the locally famous place called Classic Bike Shop of Menominee Falls Wisconsin. The building was razed not all that long ago but this place has so many good memories for so many locals. This bike was in his collection and I bought it from a member of his family. This was one of the last bikes I know of from his personal stash. The place was an absolute treasure trove of cool stuff! Do a google search for some fun stories!
The Krate series of bikes is awesome! These bikes continually go UP in value and will make for a great investment! Now is your chance to own one of the COOLEST bikes EVER MADE! Make someone in your life happy with this one. This is a cool bike that you can enjoy for years!
You RARELY find these bikes anymore! They were all abused and thrown away back in the 1970s-80s. Finding one these days is a big challenge. They are very cool and people enjoy owning, riding, and displaying them!
Most people do not sell these bikes once they have them. Be the first to get this bike back out in the light and have fun with it! I believe this to be a fairly nice original unmolested bicycle unless otherwise noted.
I got this one just like you see it. It has been in very long term storage and cannot wait to be enjoyed once again!
It is not perfect or NOS but is respectable for being a 50+ year old bike! (many of these were destroyed by boys in the first few years of their existence) The paint is original but does have some chips scratches etc. The chrome is shiney but is not perfect show quality. Both wheels have a slight wobble when you spin them. (most every used bike out there seems to) Rim hoops have side dents. (see pics) The chainguard it painted and the end is fabricated. (consider it a free bonus) These are AWESOME bikes!
Most people do not sell them who have them. I hope you love it! Take good care of this bike and it will only go UP in value! I took many and have nothing to hide! Flawless originals sell for thousands of dollars!
Own this one for much less! People will ABSOLUTELY LOVE seeing you riding this one! Take it to a car show or cruise night! People remember these but never see them these days!
People will talke about you and your cool bike for years! Sorry for the LONG description, these bikes really excite me. People will ENVY you when you ride by at a car show or on the street with this bike! I try to list anything I notice with the bike. Keep in mind this is a vintage bike that has probably not been ridden for a while so it may need minor tuning, bearings greased, polishing, etc, These bikes are getting harder to find and are more popular than ever before!
You will enjoy owning, riding, and displaying it for years! People always remember these bikes but seldom see them in person. I take them in to have them packaged so they almost always arrive in the same condition as they left us. They are all available right now!
I try my very best to describe as accurately as possible. The item "1972 SCHWINN PEA PICKER KRATE BIKE VINTAGE STINGRAY BANANA SEAT STIK S2 MUSCLE" is in sale since Thursday, January 7, 2021. This item is in the category "Collectibles\Transportation\Bicycles\Complete Bicycles". The seller is "shadow27" and is located in Fond du Lac, Wisconsin. This item can be shipped to United States.
stingray krate: pea picker cotton grey ghost
orange apple: lemon peeler