1971 Schwinn Stardust Fastback Stingray Muscle Bike Krate Vintage Banana Seat S5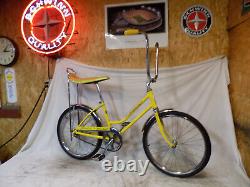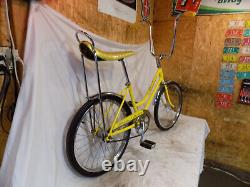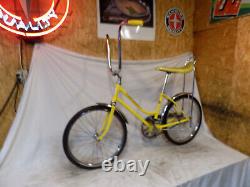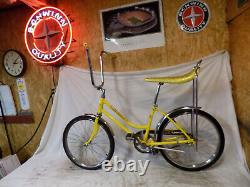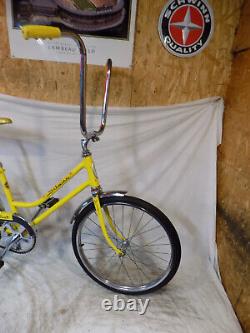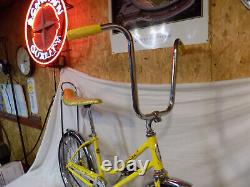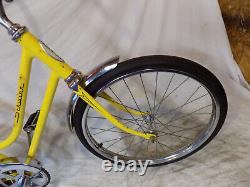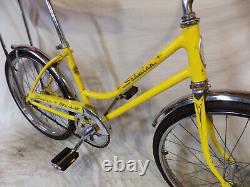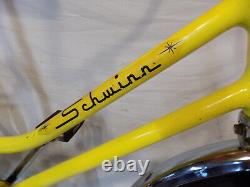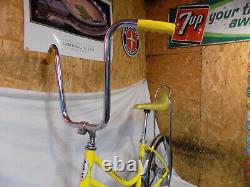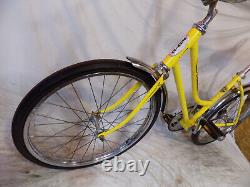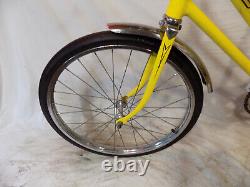 1971 SCHWINN STARDUST FASTBACK STINGRAY MUSCLE BIKE KRATE VINTAGE BANANA SEAT S5. Here is a rare original January 1971 SCHWINN STINGRAY "STARDUST" girls Fastback 20 BICYCLE! (FH Serial Number) This bike is from the era when most everything was cool!
The HEMICUDA, Mach 1 Mustang, and Camaro Z-28 come to mind! This is one of the coolest bikes made by Schwinn!
They look cool and are great riding bikes! The bike was in the original "Kool Lemon Yellow" factory painted color.
(same color as the Lemon Peeler Krate) You almost never see this color on these bikes and it looks cool! The bike has cool wide apehanger handlebars, Schwinn hand grips, chrome fenders front and rear, cool rear sissy bar, Schwinn pedals, DELUXE chrome original screen chainguard, and so much more! I dont know where you would find another like it!
The bike is an original single speed with coaster brakes. (pedal backwards slightly to stop) Has the cool krate coaster "mag" sprocket in place. Has its original NICE LOOKING Schwinn STINGRAY seat with the tag on the rear! Has some streaking on top. It is NOT all ripped up like most that you see! This one has Schwinn S5 rims front and rear with a Bendix rear hub. This one has SCHWINN tires front and rear and do hold air.
I like the Schwinn Stingray FASTBACK SLIK rear tire! I believe this bike to be basically all original parts from when it was new and a very respectable survivor! (see pics and be your own judge).
This bike could be a good investment! Take care of it and it will only go UP in value! Now is your chance to own one of the COOLEST girls bikes EVER MADE! Pair it up with your boys Fastback for a unique pair of bikes.
Many of these got parted out for boys bikes. Happy that this one survived!
Make someone in your life happy with this one. This is a cool bike that you can enjoy for years! You RARELY find these bikes anymore! They were all abused and thrown away back in the 1970s-80s. Finding one these days is a big challenge.
They are very cool and people enjoy owning, riding, and displaying them! Most people do not sell these bikes once they have them.
Be the first to get this bike back out in the light and have fun with it! I believe this to be a fairly nice original unmolested bicycle unless otherwise noted. A great bike to display, ride and enjoy, use for its hard to find parts, or restore.
Would also be a great source of parts for your Schwinn Fastback boys bicycle! (would be a shame to see this used for parts but the choice is yours) You do not see these often!
A great way to round out your collection or to start one! NOTED FLAWS It is not 100% flawless but is not bad for a 50+ year old bike! The paint has survived better than almost every one you see! Has chips scratches etc but has survived relatively well.
See pics and be your own judge T he chrome is shiny but is not perfect show quality. Wheels have spots on the chrome. They are not perfect Both wheels have a slight wobble when you spin them.
(most every used bike out there seems to) These bikes rarely come along! If you would enjoy a cool real deal Chicago made Schwinn at a great price, you may love this one! I took lots of pics and have nothing to hide.
Please look closely for exact condition. This is a cool bike in the RIGHT color! The Fastback bikes ride much nicer than the kool KRATE bikes! (they look awesome but these ride much better) I hope you enjoy this! These do not come along often!
Sorry for the LONG description, these bikes really excite me. People will ENVY you when you ride by at a car show or on the street with this bike! I try to list anything I notice with the bike. Keep in mind this is a vintage bike that has probably not been ridden for a while so it may need minor tuning, bearings greased, polishing, etc, These bikes are getting harder to find and are more popular than ever before! You will enjoy owning, riding, and displaying it for years!
People always remember these bikes but seldom see them in person. I take them in to have them packaged so they almost always arrive in the same condition as they left us. Fed Ex just increased the rates.
This is a 10+ day service and includes packing. I always try to keep things as reasonable as I can. They are all available right now! I try my very best to describe as accurately as possible.