1966 Schwinn Sting-Ray Fastback vintage bicycle muscle bike, rare violet Stingray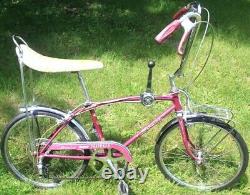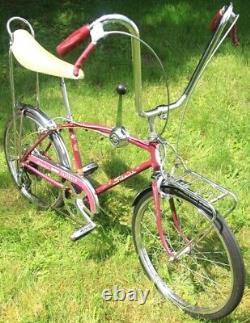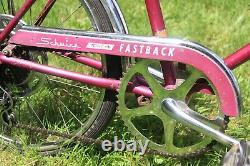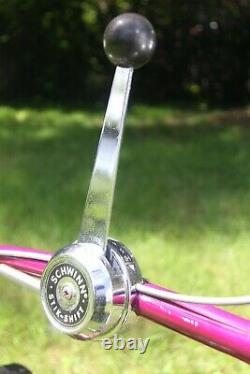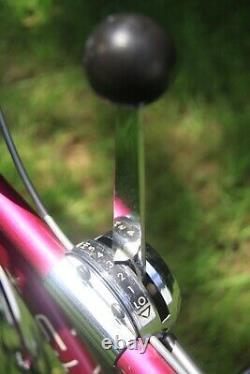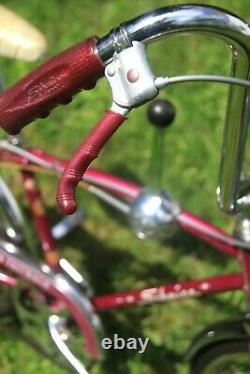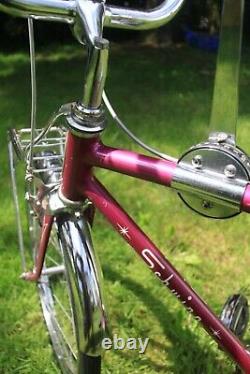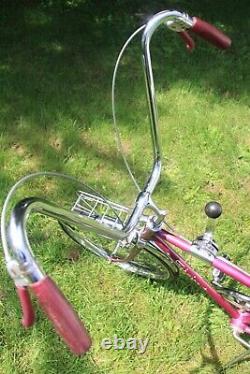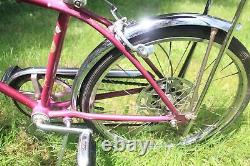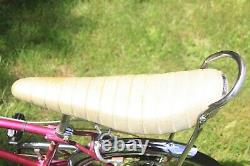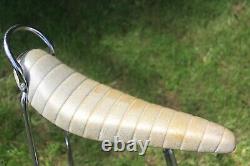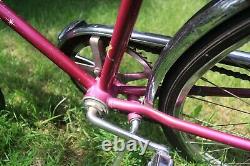 Ne vintage first-year Schwinn Sting-Ray Fastback bicycle with 5-speed stick shift. This rare and early American-made muscle bike was manufactured in Chicago in August 1966, the first year they were produced, bearing the production date-coded serial number: HB739xx. It is in very nice condition for a 55-year-old boy's bike and it has a lot of shiny chrome. It has its ORIGINAL Kool Violet paint (a rare and desirable color only produced in years 1966-68) in very good condition with few paint nicks, and a beautiful condition head badge. The bike also has a.
Nice, but not perfect, deep-tufted silver-glo seat with some light discoloration, otherwise very soft and nice, with no cuts and with some rust on the underside pan, with a Gulco six-pie Stratolite No. 38 rear red reflector attached to the original underseat tab.
This Fastback has correct red dot eye-stabber brake levers with rare violet brake lever grips, both really nice condition, correct Weinmann Type 810 brake calipers with original brake pads (should be replaced), and correct single-arrows bow pedals in good condition, with small end caps. The very clean 5-speed stick shifter has its original shifter body decals, with the side decal in very nice condition (some loss at edge) and the top one very clean, both have very complete and legible lettering and numbering. Hard to find both in this good a condition.
Shifter ball has the usual loss of silver paint in the'5' on top. Very light peppering on some chrome, mainly fenders and under seat, chain guard, rack and wheels, with some light pitting on front wheel. Fork crown has a dent, left side.
Slight kink in rear fender at back. Rear wheel has one minor wavy area.
Chain guard is clean with some minor paint nicks (the A in STING-RAY) and scratches and minor peppering. The chain guard still has its original paint and very legible screened lettering and is a good match to the frame. This Fastback now has purple metal dice on the tire valve stems! But what really makes this Fastback stand out is the sheer amount of shiny chrome on it. And a big reason for that is because it has a very rare vintage chrome rat-trap style front rack by Wald, which is fully functional and in nice condition.
Rat-trap is clean, quiet and the springs. The chrome has just light peppering and is very shiny. Ou would have a hard time finding a nicer one of these special accessories.
This Fastback has nearly all original and/or correct parts, which adds to the total value of this really clean bike. Back wheel hub and bottom bracket. Front and rear wheel spokes checked and adjusted, none missing, all intact and in good condition; accessorized with purple dice valve stem caps.
As a Raleigh Gold Dot rear tire; and the Wald front rack. Bike was in long-term storage for about 6 years, then recently brought out for minor clean up, adjustment and parts replacement. Better rear wheel hoop (3 wavy area on left side, otherwise very clean); screw piece for derailleur; shifting fine tune, doesn't shift into 5th; replacement brake pads; and a reproduction Schwinn Fastback rear tire if you want to go all Schwinn.
This bike is in very nice and clean condition. For its age; not flawless, but far above average, an easy C7 (Good intact bike with visible wear, may need minor restoration) to C8 (Very Good, a pretty bike, few scratches, minor wear, no cuts in seat), per bike condition descriptions in the 1997 Schwinn Sting-Ray book by Liz Fried. This very early Schwinn Fastback turns 56-years old this year. Now is your opportunity to own a true classic of the Muscle Bike era. This bike came from a large high-end collection of vintage Schwinn Muscle Bikes. This is an investment-grade quality bicycle that, with proper care, should continue to appreciate in value, and it's one of the nicer Fastbacks with mostly original equipment that we've seen in over 20 years of dealing in vintage muscle bikes. Check out our flawless feedback and our other great collectibles auctions, including more Schwinn bike parts and accessories, even a pair of vintage hardcover Schwinn Bicycle Service Manuals. Muscle bike, chopper, StingRay, Orange Krate, Lemon Peeler, Pea Picker, Apple Krate, Cotton Picker, Grey Ghost, MantaRay. This item is in the category "Collectibles\Transportation\Bicycles\Complete Bicycles". The seller is "robo234" and is located in this country: US. This item can be shipped to United States.
Wheel Size: 20\
Country/Region of Manufacture: United States
Year: 1966
Color: Violet
Brand: Schwinn