1920s MEAD RANGER MENS MOTORBIKE FRAME+HEADBADGE PREWAR VINTAGE SCHWINN BICYCLE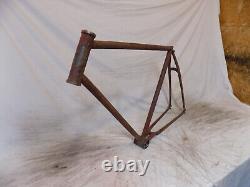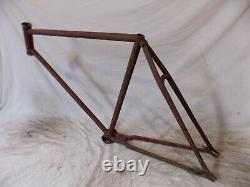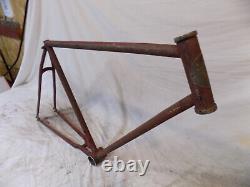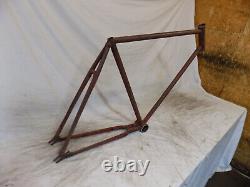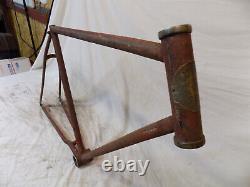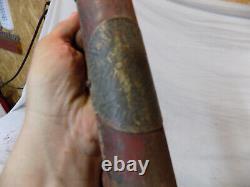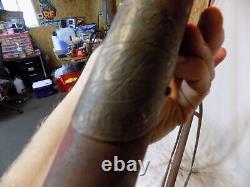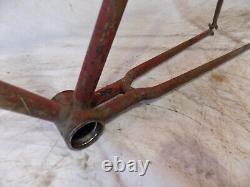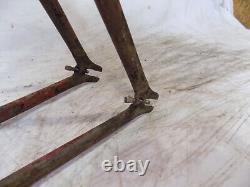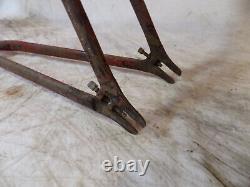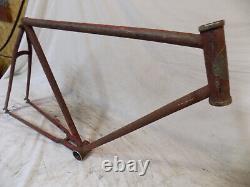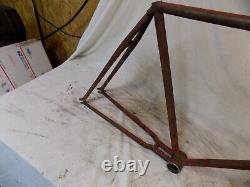 1920s MEAD RANGER MENS MOTORBIKE FRAME+HEADBADGE PREWAR VINTAGE SCHWINN BICYCLE! Looking for your next fun UNIQUE project? (would be cool to badge it as a Schwinn, Henderson, Excelsior, etc) The serial number is 160044? And hand stamped on the bottom of the cranks housing.
This one has been in VERY long term storage. Would need a total restoration for show or have fun with it in its current patina. Add your parts and have a fun OLD antique bike! Would be really cool to use a more common girls bike to build this one up! Includes the frame, forks, original Mead Ranger head badge, rear adjusters, and everything shown! Check out the COOL unique rear dropouts! DIMENSIONS I believe this to have been born with 28 wheels.
The distance from the center of the crank to the top of the seat post clamp is approx 22. The center of the handlebar stem to the center of the seat post is approx 22 1/2.
IF you know these bikes, you know how cool and rare these are! Fun to build, display, or ride and enjoy! The hot rod and rat rod bikes are HOT right now! Add your parts and have a COOL bike at a super low price! These frame sets NEVER come along!
This is the first one of these I have seen in a while! A RARE UNIQUE bike frame! It has been hidden away for decades waiting for the opportunity to make it into something cool once again! Please note, This one comes exactly as shown. Think about this, SCHWINN was probably around a 20 year old company when this one was produced! Most of these bike did not make it past the WWII Scrap drives! It is amazing that this one still exists! What you see is what you get in exact condition shown. This is the basis for something great! They are all available right now!
Elgin I try my very best to describe as accurately as possible.