Vintage Schwinn Part CATALOGS Stingray Bicycle RoadBike BMX Cruiser MTB Book Hub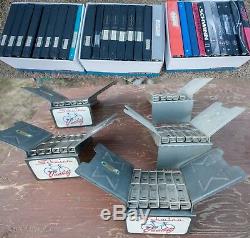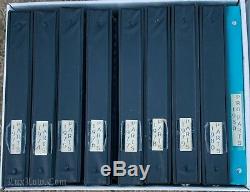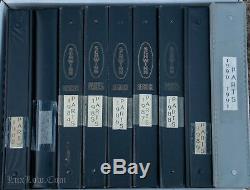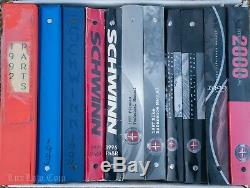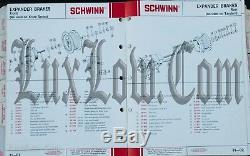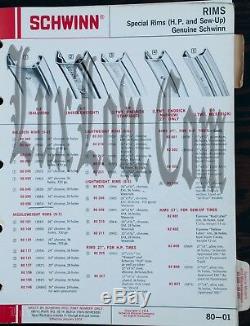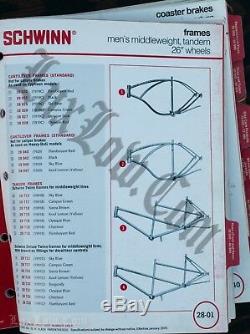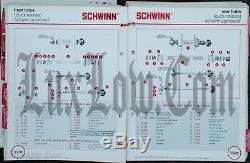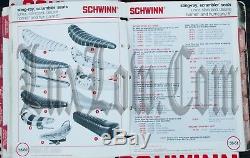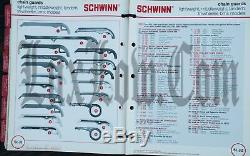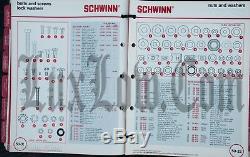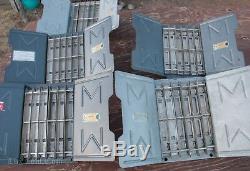 The Schwinn Literature Mother Load, Official Schwinn Dealer / Shop Parts & Accessories Catalog 1973 -2000. This is The Holy Grail of Schwinn Literature, Complete Vintage Genuine Original Schwinn Shop / Dealer Parts and Accessories Catalogs from 1973 to 2000 "Unfortunately 1981 is Missing".
Catalogs are all from One Schwinn Shop and is in Note Book Binders. Also Included the Original Schwinn Parts catalog table top binders. Binders are shown separate but can be mounted together to make on big book / display. The 1973 into the 1980s are Classic Schwinn parts and Accessories Catalogs, The Later 1990s are a little different format.
Most include Price lists, but may also have supplemental promo, shop accessories, and repair bulletins. 29 books invaluable wealth of Knowledge. This is a great tool for the Vintage Bicycle Enthusiast or Collector. Also the Unlimited Bicycle Man Cave Item Official Parts and Accessories Catalog.
This Part is Nice Addition to your, Vintage Schwinn Cruiser Bike, Fixie Fascination Track Bike, Ratty Mc Rat Rod, Old School BMX Bike Antique Bike, Schwinn Krate Stingray Restoration, or Custom Chopper Bicycle Project. Individual Catalog Description: Vintage Genuine Original Schwinn Shop / Dealer Parts and Accessories Catalog. Item came from a Schwinn Dealer and is in Used Condition, May have markings and wear as it was used in a shop.
The Catalog is the Holy Grail of Parts and Accessories used for that year, It lists All the Parts and Accessories available from Schwinn for that Year, but Not Limited to that Year, Some items Like Hub Parts, Nuts, and Bolts, etc.. Shows Exploded Views of the Parts with detailed individual parts, and part numbers. Covers all parts of the bikes in detail.
Check the photos for Index and Tabs for sections included. It's really a Completed Listing of all Schwinn Stuff for that Year. Yes ALL, and it seems to cover quite a few years back too. The Exploded views can help you figure out repair, but this is not a Service Manual and Just a Parts and Accessories Catalog. May Cover Ballooner, Middleweight, Stingray, Lightweight, BMX, Pro Cycling, Mountain Bikes, Road Bikes, Kids, Fitness, Service Bikes, etc..
Later Year Catalogs have some pictures of product but not the Detail of the 1970s and 1980s Catalogs. Rate Varies in relation to how the item ships.
If you have a problem with your order, We strongly suggest emailing us first for our best solution to the problem. We Hope You Enjoy Bikes as Much as We Do, Check Out the new look of Lux Low our Ever Growing Bicycle Portfolio of Antique and Vintage Bicycles from 1890 to 1990. We Specialize in Full Antique Bicycle Restoration, Custom Chopper Bicycles, Antique Wood Wheel Safety Bicycles, Vintage Cruiser Patina Restores, and Vintage Road & Racing Bikes. We Excel in Patina Wood Wheel Restores: Miami, Racycle, Mead, Ranger, Dayton, Iver Johnson, Spalding, Pope, Columbia, Sterling, and Repainting Schwinn Krates, Stingrays and Ballooner Bikes, Prewar Elgins, Colsons, Shelbys, Dayton Huffmans, Cleveland Welding, Hawthorne, Roadmasters, and Dope Azz Custom Bikes.
The item "Vintage Schwinn Part CATALOGS Stingray Bicycle RoadBike BMX Cruiser MTB Book Hub" is in sale since Wednesday, January 9, 2019. This item is in the category "Collectibles\Transportation\Bicycles\Printed Material". The seller is "luxlowbikes" and is located in Golden, Colorado. This item can be shipped to United States.
Brand: Schwinn
parts: accessories
vintage: bike
Genuine: Schwinn
catalog: book
lightweight: middleweight
stingray: cruiser
shop: manual