1971 Schwinn Cotton Picker Krate Bike Vintage Stingray Banana Seat Stik S2 Atom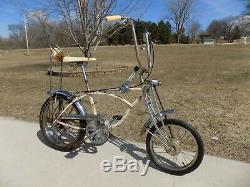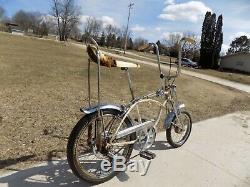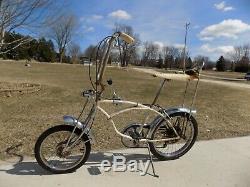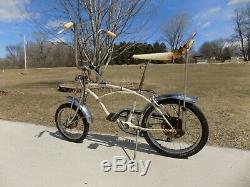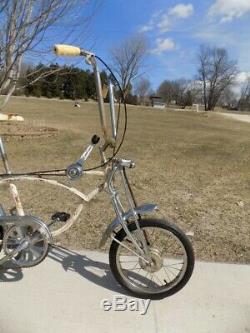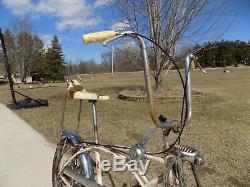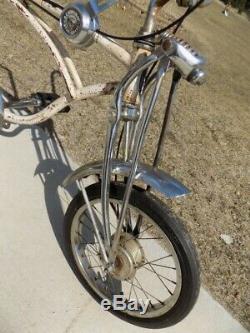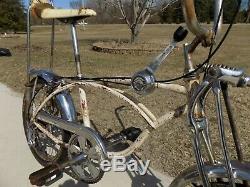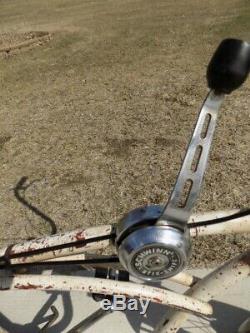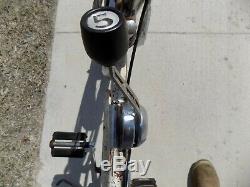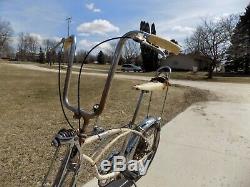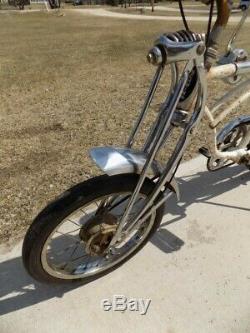 1971 SCHWINN COTTON PICKER KRATE BIKE VINTAGE STINGRAY BANANA SEAT STIK S2 ATOM! SO, you think all the barn finds have been found? Well, most have but here is one that was not!
Here is a rare original JANUARY 1971 Schwinn Stingray "COTTON PICKER" 20 Krate bike. (AG Serial Number) This bike is from the era when most everything was cool!
The HEMICUDA, Mach 1 Mustang, and Camaro Z-28 come to mind! This is agruably one of the very COOLEST Schwinn bikes of all time!
EVERY kid wanted one back in the day... Few were lucky enough to own one. You did not see them often back in the day, and almost NEVER see them in any condition these days! They were designed after the drag racing muscle cars of the time!
They hit the nail on the head with this one! The bike is LOADED with cool options only found on the top of the line "Krate" series at the time.
The bike has the cool original paint and decal "cantalever" 5-speed Schwinn frame, (whats left of the paint anyway) cool wide apehanger handlebars, matching Schwinn hand grips, chrome Schwinn SPRINGER front forks with early "S" bolts, Schwinn clear/white reflector pedals, was ONLY used the first 3 months of 71. It has the cool Schwinn 20 front rim with the correct ATOM drum brake. The rear wheel is a 5-speed Schwinn S-2 rear wheel. Both front and rear tires hold air.
The front tire is a Schwinn tire. The rear is a raised white letter SLIK tire! The seat is original, rough but the real thing!
A friend of mine "Picked" this locally out of a barn last year. I paid up to get it but had to have it. MOST of these good bike have been found long ago. To get one like this is amazing! Especially with the popularity of the "hot rod" and "rat rod" bikes as well as cars and trucks these days. This will blow peoples minds at the bike shows! YES, you could always restore it as this is a rare model BUT there is a certain magic about having a bike that is in the rough like this one! Take good care of it and it will only go UP in value! The Grey Ghost AND the Cotton Picker Krate bikes were the lowest production and arguably the MOST desirable! This is kind of like finding an old 57 Chevy or a Cuda in a barn that nobody has seen or loved in decades! There is a certain cool magic about bringing it into the light again!
Now is your chance to own one of the COOLEST bikes EVER MADE! Make someone in your life happy with this one.
This is a cool bike that you can enjoy for years! You RARELY find these bikes anymore! They were all abused and thrown away back in the 1970s-80s. Finding one these days is a big challenge. They are very cool and people enjoy owning, riding, and displaying them!
Most people do not sell these bikes once they have them. I had this one at a local car show that had bicycles. It was the only one there like it and it really sparked some fun conversation!
NOTED FLAWS I got this one a lot like you see it. Its rough but SO cool! The paint and chrome are original and rough.
The shifting works but the rear cog should be cleaned well to make it operate smoothly. Both wheels have a slight wobble when you spin them. (seems every used bike out there does too) This is a great find! I wrote a very detailed description and took a ton of pics.
I have nothing to hide. Just to be 100% honest about things. When I got this bike, it was somewhat disassembled. Was missing the cables and tires.
(my guy added them, would look cooler with grey housing cables vs the black)It was "rode hard and put away wet" which is kind of the magic behind this one! There is many restored ones out there. This one is COOL COOL COOL! NOT trying to nit pick every little thing, just like to be honest. Either way it is SUPER COOL and they are AWESOME bikes!
Most people do not sell them who have them. I hope you love it! With a little tlc, you will have a really cool bike that will only go UP in value! A good "fixer upper" type bike or possibly use it for its very valuable hard to find parts! They are not hard to find and not very expensive!
Flawless originals sell for thousands of dollars! Own this one for much less! People will ABSOLUTELY LOVE seeing you riding this one!
Take it to a car show or cruise night! People remember these but never see them these days! People will talke about you and your cool bike for years!
Sorry for the LONG description, these bikes really excite me. People will ENVY you when you ride by at a car show or on the street with this bike! I try to list anything I notice with the bike. Keep in mind this is a vintage bike that has probably not been ridden for a while so it may need minor tuning, bearings greased, polishing, etc, These bikes are getting harder to find and are more popular than ever before!
You will enjoy owning, riding, and displaying it for years! People always remember these bikes but seldom see them in person. I take them in to have them packaged so they almost always arrive in the same condition as they left us. They are all available right now! I try my very best to describe as accurately as possible.
The item "1971 SCHWINN COTTON PICKER KRATE BIKE VINTAGE STINGRAY BANANA SEAT STIK S2 ATOM" is in sale since Thursday, April 4, 2019. This item is in the category "Collectibles\Transportation\Bicycles\Complete Bicycles". The seller is "shadow27" and is located in Fond du Lac, Wisconsin.
This item can be shipped to United States.
Brand: SCHWINN KRATE
schwinn krate: stingray cotton picker
orange apple: pea picker
lemon peeler: fastback